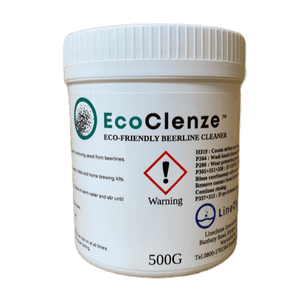 EcoClenze has a formulation of buffers and mild alkalis that make it safe on skin and soft materials such as stainless steel, aluminium and plastics. As an added environmental benefit, oxygen also helps to reduce the biochemical, and chemical demand in the wastewater.  
Leave for at least 20 minutes for a quick clean. You can leave it longer, up to 24 hours. Flush through with clean water as normal.
The powder can also be used as a deep soak clean by mixing with water and leaving in the lines for at least two hours. It is safe to leave overnight.
The ratio is 500g dissolved solution to 50 litres of water, which means for your Pint365 it is roughly 25 cleans
EcoZenze is safe to use, odourless, effective at any temperature and is free rinsing making it a safe and pleasant product to use. The fact that it is environmentally friendly is a bonus.